The class will teach you how to use the "Mini Quick Curve Ruler" from Sew Kind Of Wonderful. Patterns and rulers are required and can be purchased in the store. Once you learn the technique of the ruler, there are many quilt patterns you make including those requiring the larger Quick Curve Ruler. Don't be afraid of the curve, this is a very forgiving and easy block to make. Class held Wednesday, September 20, 6:00 pm. Taught by Amy Maxfield. Cost: $10 plus supplies.
Done When They're Done Denim Quilts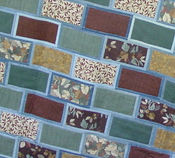 Choose between Denim Stars, Brick Work or Windows denim quilt patterns. These quilts are done when they're done. There's no quilting or tying to do afterwards. Make them in small sections that fit inside your sewing machine throat. You can substitute denim with flannel and you can add Shannon Cuddle for the inside fabric. It's a great way to use up those old jeans you 've been saving. Taught by Annette Rose. Class fee: $12. Taught Thursday, September 28, 10:00 am or Tuesday, October 3, 6:30 pm.
Longarm Quilting A to Z!
Join us for

2

days of fabulous longarm quilting classes.

Jane Hauprich

will be sharing lots of tips and techniques for getting our quilts finished! Classes held Friday and Saturday, October 20 and 21, 10 am, and 2 pm. Lunch will be provided. Cost: $30 per class, or get all four for just $90. Bring a friend who doesn't own a longarm machine, and you'll both receive a gift card for $25 to use in the store. Friday's classes: Longarm Quilting Boot Camp Basics and Custom Waves, Circles and Curves. Saturday's classes: Creative Textures and Fills, and 5 Steps to a Perfectly Quilted Quilt.
This is a mini Quick Curve Ruler class and the pattern can be found online for FREE from Sew Kind of Wonderful by selecting "free patterns" (You will find many other patterns that look so fun to make!) This elegant table runner will be perfect during the holidays for beautiful addition to your holiday decor. Fabric and Ruler required for class. Download the pattern before class as well. Class held November 2nd, 6:00 pm. Taught by Amy Maxfield. Cost: $10 plus supplies.
Machine Quilting on Your Home Machine - New Class Just Added!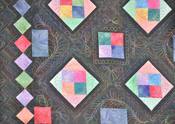 Learn how to finish your own quilts...right on your own machine. Barbara Reynolds will take you through the steps from basting to quilting. Specific designs will be covered in this 3-session class. Mondays, October 9, 16 and 23, 10:00 am to noon. Cost: $45.
October 17, Tuesday at
6:30 pm
:
Sewing Machine Maintenance Lecture/Demo
— Come laugh and learn about your sewing machine, as I show you my "Sewing Machine Hall of Shame." We'll discuss how to clean and oil your machine, adjusting tensions, and talk about thread, needles and bobbins. Ad we'll talk about some basic things you may not know about your sewing machine. Taught by Annette Rose. Class fee: $5
November 2 thru December 7

(5 class sessions, skip Thanksgiving Day), Thursdays at

6:00 pm

: Intermediate Piecing Workshop — In this 5-part class, you will make five 9" blocks and put them together with sashing and setting triangles. Skills taught in this class include: Y-seams, ruler work, making your own templates, quarter and three-quarter triangles, foundation paper piecing, curved piecing, etc. Blocks include: Lemoyne Star, Spinning Star, 54-40 or Fight, New York Beauty and Nesting Geese. Pre-requisite: Must know how to sew a scant 1/4" seam and be comfortable with your rotary cutter and rulers. This class is not for beginners. Taught by Annette Rose. Class fee: $60